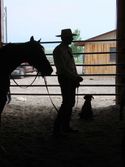 The Mike Hoffman Training facility is located 8 miles north of Belgrade, Montana.  Mike has been training horses since 1989.  Prior to being a full time trainer, Mike worked on various ranches throughout the West.  What started out as starting colts has progressed to include training and showing performance horses.  While his emphasis for performance horse work is the Reined Cow Horse, he is experienced in Reining and Cutting as well.  Mike is a member of NRCHA, NCHA, and NRHA and shows in all of these Associations. 
Mike conducts several clinics each year and provides a wide variety of riding and horsemanship lessons - halter ground work, reining, cutting, team sorting, barrel racing, problem horses, etc.  He has buffalo and cattle available to work during lessons as well as for his show horse training program.
The Mike Hoffman Training facility includes a 70 foot x 150 foot indoor riding arena, 140 foot diameter outdoor round pen, and 20 acres of pasture ground.  He also have access to 320 acres of State Land located ~1000 feet up the road ~ for plenty of room to ride out.  
"I hope to see you here to have a great ride, improve your skills, and obtain the performance you expect from your horse." ... Mike.           
Mike Hoffman